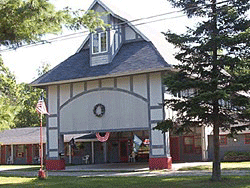 Alpine Country Inn (formerly Ray's Retreat Country Inn) is the perfect spot for your northern Michigan vacation. Located on Old 27 South just a few miles south of Gaylord, MI you are at the center of numerous recreational and vacation destinations.
The 17-unit motel has clean rooms with in-room refrigerators, coffee, microwaves, cable TV and air conditioning. Non-smoking and smoking rooms available. A hot breakfast featuring Pancakes and Sausage, Biscuits and Gravy is served on the weekends, with a large breakfast buffet bar during the week. The large dining room and kitchen area make it a great meeting place for groups, families, and reunions. The backyard patio area is a quiet secluded spot nestled in the tall oaks. Picnic tables, patio tables, fire pit, horseshoe pit, volleyball and shuffleboard are all available for your enjoyment.
Park and ride your snowmobile directly from the trail to your door. Ample parking available for snowmobile and boat trailers. Garage area available if needed for working on snowmobiles.
Alpine Country Inn
9311 Old 27 South
Gaylord, MI 49735
989-732-4914
<>
Visit Alpine Country Inn Website >>>>
<>
Alpine Country Inn On Facebook
Below are the latest postings from the Alpine Country Inn Page On Facebook.
<>
This message is only visible to site admins

PPCA Error: Due to Facebook API changes it is no longer possible to display a feed from a Facebook Page you are not an admin of. The Facebook feed below is not using a valid Access Token for this Facebook page and so has stopped updating.
<>
Visit Alpine Country Inn On Facebook >>>
<>
Visit Alpine Country Inn Website >>>>
<>