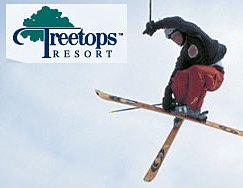 Spring Fling activities will take place all weekend long on this Season Passholder Appreciation Weekend.
* Season Passholders can bring up to two guests for $10 per lift ticket per day
* Activities include
o Human Curling (Saturday)
o Frozen Fish Toss (Saturday and Sunday)
o Live Entertainment (Saturday)
o Beer Tent (Saturday and Sunday)
o Slush Cup (Sunday)
o Cardboard Classic (Sunday)
o And more….
Race The Face 2011
March 18th & 19th starting at 11am
Race the Face is limited to the first 500 classes entered (No exceptions). The number of sleds entered into the race will be updated all day Friday at every hour on hardcoresledder.com. Must be 16 yrs of age to race.
More info on Race The Face 2011
Call us at 1-888-TREETOPS for more information or to book your stay during Race The Face weekend!