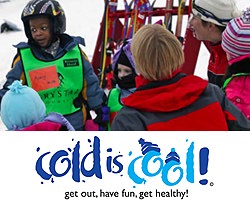 MSIA Cold is Cool Passport allows Fourth and Fifth Graders to Ski Free in Michigan!
Families can obtain a Cold is Cool Ski & Ride Passport App for their 4th and/or 5th graders that gives them up to three free lift tickets or trail passes at 28 participating ski areas, plus additional discounts on the slopes and in Michigan ski shops. MSIA charges $25 for the passport (to cover app development and maintenance.)
In addition to the lift tickets donated by the participating ski areas, Cold is Cool Passport also includes a coupon for 20% off a helmet purchase and $20 off the purchase of $100 at participating ski shops across the state. Some ski areas have also included coupons for equipment rental and free or discounted lessons.
Note: We have turned the Passport booklet into an app to download on your phone, making it contactless at the lift ticket window. The app will be available to download before the snow flies. You can pre-order yours now, and once the app is ready, we'll send instructions on how to download.
<>
Visit the Cold is Cool Page on the MSIA Website >>>>
<>
More News From MSIA – Michigan Snowsports Industry Association

<>
Michigan Snowsports Industry Association – News and Specials via Facebook
<>
Visit Michigan Snowsports Industry Association on Facebook >>>>
<>