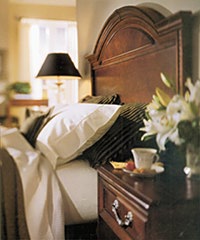 Located on 327 beautiful acres outside the city of Cadillac, Evergreen Resort is home to two award-winning golf courses, various nature trails, 117 cozy guestrooms and much, much more. Best of all, there is always something to do at Evergreen, regardless of when you plan your visit.
Some resorts close their doors and hibernate through the winter, while others lose their appeal the moment the snow melts – but at Evergreen Resort we think differently. With miles of trails for hiking, biking, snowmobiling and cross-country skiing, there is always a reason to relish in the outdoors. That's why our resort stays open 365 days a year. We're also surrounded by half a million acres of national forest, so guests are just minutes away from superb downhill skiing, fishing and lakeside beaches.
When you're not out enjoying the wilderness or playing golf, there is plenty to do right here at the hotel. Two restaurants, an indoor pool and tennis courts are just a few of the great amenities at Evergreen Resort.
Dining at Evergreen Resort
From snowmobiling to mountain biking, it's easy to work up an appetite at Evergreen Resort. That's why we have two on-site restaurants to satisfy all your daily cravings.
Enjoy gourmet meals from Moscato Salmon and Wild Mushroom Pork Stir-fry, to Two-Handed Burgers in the Terrace Room or Curly's Sports Pub.
Evergreen Resort (formerly McGuire's Resort) is under new management
Evergreen Resort is under new management, a Michigan based hotel management company that is making a great impact on providing exceptional service and quality food to enhance the guest experience. That is hard to come by at competing resorts. Whether you're a nature lover, a golf enthusiast or just want a memorable family vacation spot, you will find it all at Evergreen Resort.
Evergreen Resort
7880 S. Mackinaw Trail
Cadillac, MI 49601
1-800-632-7302
<>
Visit Evergreen Resort Website >>>
<>